---
From green to White
A notable feature of Hippotrix' first app, "Hippo Seasons", is its real-world aesthetic. The physical actions of rolling a snowball is slow and steady, requiring effort, just as when rolling a real snowball. Sounds from nature mix with high-quality recordings of musical instruments. Perhaps most unusually, the artwork of the assets (objects) is highly realistic, from fallen leaves to a detailed lawnmower which chugs out thick black smoke.
Like "Hippo Seasons", our interpretation of "White" (the show) will be sourced from the reality. This was an important design decision. Just as original illustrations are often preserved in e-books, so theatre apps can retain the look and feel of performances by employing their physical assets. The design of the show is thus preserved, but the experience also reinforces the link to liveness. These are not animated cartoon versions of actors, props and scenery, but the real objects themselves inside your tablet.
Hippotrix achieves this effect by the use of greenscreening (also known as chroma key photography). This is a simple way of isolating objects to allow them to be reused frequently throughout an app. Used for decades in film, animation, video games and television, greenscreening involves capturing an image of a specific object or person while in front of a single-colour background (originally blue, but generally green since the advent of digital cameras). The background can then be removed in post-production, and a new backdrop added.
blue screen original                      keyed out version                      final composite
The benefit of green screen is that finding the edges of an image is automated, unlike with manual cutting out in Photoshop.
"White" revolves around two key sets of objects, eggs and birdboxes. The eggs are simple to isolate, having smooth edges, but Shona Reppe's award-winning designs for the birdboxes are a riot of detail – lace, wool, mirrors, pencils, shaggy carpet. As Thom Dibdin noted in The Stage:
"Great theatre design does not just illuminate its text, it adds to it. Shona Reppe's design and costumes for Catherine Wheels' White went one step further again. She created a white world of such invention that it could have existed on its own."
The app needs to create a "white world" that convinces and delights its users whether or not they have seen the show. By using Shona's wonderful objects as the centrepieces of the digital experience, Hippotrix hopes to bring a bit of that theatrical magic to the iPad.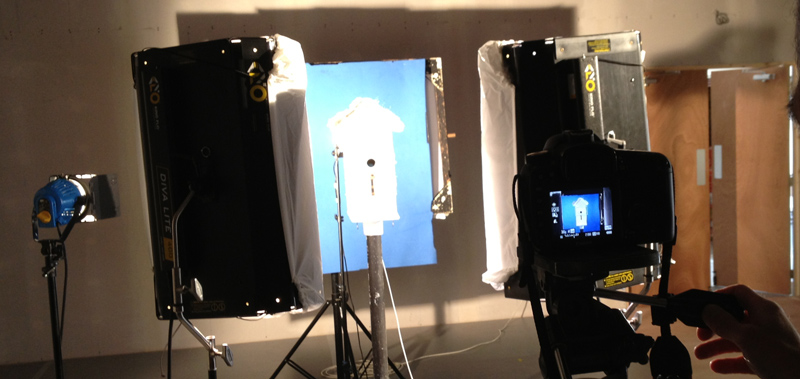 ---